A propos de l'auteur aleks_mcfly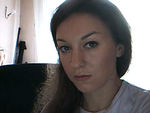 Quelques mots sur moi
It's about time to update my profile. Few things changed, few things remained the same.
Still crazy about shoes and nice clothing (See by Chloé, Etro Milano, Marc by Marc Jacobs, Paul & Joe, Miss Sixty, Diesel, Juicy Couture...)
About to add a few more countries to the list...A few years ago, no one would have ever believed in me. Today it turns out all my efforts are going to be worth it.
It feels like being a "work in progress", so to say.
I don't know where i'll be in 4 months, and it is wonderfull. I am mot so sure I want to know what i am going to do in a few years and where I am going to live.

Being alive and free feels like heaven.

Mes centres d'intérêt
kendo, iaido, wines, travel, clubbing and japanese art...
Mes films préférés
Apocalypse Now, Fight Club, The little Shop of Horrors, Shichinin no Samurai, Las Vegas Parano, 21 grammes, Zatoichi, Dark City, Buena Vista Social Club, Lolita, Dolls, In the Mood for Love, Unagi, Rebecca, Nightmare before Christmas, Boulevard de la Mort, Sanjuro, Brazil
Mes musiques préférées
Buena Vista Social Club, Placebo, Muse, Emir Kusturica & No Smoking Orchestra, Goran Bregovic, Cypress Hill, Gotan Project, Louis Armstrong, Seu Jorge, Portishead, Ray Charles, Goldfrapp, Cocorosie, Nouvelle Vague, Cesaria Evora, Ben Harper, Ali Farka Toure, Toumani Diabate,
Mes livres préférés
Heart of darkness, Guerre & Paix, 黒い雨, Antigone (Anouilh), 金閣寺 (Mishima), le Feu (Barbusse), De Sang froid, Le Dahlia Noir, Rhinocéros, Kapputt, La jeune fille à la perle, 海辺のカフカ, Comme le fleuve qui coule, Les Croix de bois